Tim Horton's is a name that everyone knows and loves! They have great coffee and delicious food. PLUS, they just opened up here in Forest Lake, MN and you can already tell it's going to be a big hit.   Since this fabulous coffee shop is now in town I thought it would be fitting to tell you 11 things you might not have known about the famous Tim Horton's Coffee Shop!
1. It Was Founded by a Canadian Hockey Player
Miles Gilbert "Tim" Horton spent 24 years as a defenseman in the NHL, playing for the Toronto Maple Leafs, New York Rangers, Pittsburgh Penguins, and Buffalo Sabres, and was widely regarded as the strongest man in the game. Before opening the doughnut chain, he also tried his hand at a hamburger restaurant and a Studebaker dealership.
2. That's A Lot of Coffee!
Thanks to Tims, Canadians drink more coffee than Italians, Americans, the French or pretty much any other nation. In fact, we drink more than 14 billion cups of coffee each year. Tim Hortons serves more than 2 billion cups alone.
3. It Was Once Owned by Wendy's International
Being bought out by a huge fast food chain is actually nothing new for Tim Hortons. From 1992 until the company went public in 2006, Hortons was owned by Dave Thomas's popular burger chain. Hortons CEO Ron Joyce (pictured) controlled more shares of Wendy's than even Thomas did, though, until Joyce sold his stock — today worth about $1.2 billion — and retired.
4.  It Sells 76 Percent of all Canadian Baked Goods
Along with coffee and doughnuts, Tim Hortons also sells bagels, sandwiches, panini, and wraps, and when all is said and done they command a massive share of the baked goods market. If you're eating a doughnut in Canada, it's most likely from Tim's.
5. The First U.S. Locations Closed
In 1981, the first U.S. locations opened in Deerfield and Pompano Beach, Fla. Sales were dismal, so they closed soon after. But they wouldn't be gone for long…
6. Offers Its Own Credit Card
In 2014, Tim Hortons launched its "Double Double" Visa cards, a high-tech credit card with different light-up buttons that allow the consumer to use it as a regular Visa card or redeem the points racked up at the nearest Tim Hortons location.  This could possibly end my healthy eating if I were to get one of these 😲!
7. 'The Priestley' Was Real!
CBS sitcom 'How I Met Your Mother' regularly spoofed all things Canadian (thanks to B.C.-born star Cobie Smulders. In one episode, guest star Jason Priestley proudly announced that Tim Hortons had named a doughnut after him. Shortly after the episode aired, Tim Hortons apparently did it for real, tweeting a picture of a new creation dubbed "The Priestley" — a timbit stuffed inside a strawberry-vanilla doughnut.
8. It's in the Dictionary!
So ubiquitous is Tim Hortons in Canada that "Double Double" actually made it into the Canadian Oxford Dictionary, where it's defined as "a coffee with double cream and double sugar added."
9. Because of Timmies, Canada eats more donuts per capita than any other country.
Even more than Americans!
10. They originally sold hamburgers
Yep, hockey player Tim Horton, co-founder of the company, insisted their first stores sell char-grilled beef pucks. And the coffee? It cost just 10 cents.
11. They have a serious rivalry with Dunkin' Donuts.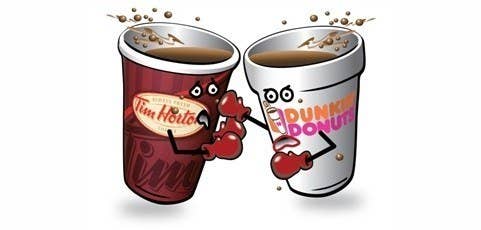 When Tim Hortons switched from Coke to Pepsi in the States, Dunkin' spitefully switched from Pepsi to Coke.
I would like thank www.thedailymeal.com and http://www.foodnetwork.ca for providing the facts and some of the pics!
The new Tim Hortons Coffee Shop in Forest lake is located 107 12th St SW, Forest Lake, MN 55025.  Go grab some great coffee and some delicious food.