With winter in full swing and Ground Hogs day just around to corner, which will probably tell us that we have another 6 weeks of winter left.  So, there is still a lot of time this winter to do some pretty fun things with your friends and family.  Below is a list of 4 fun events and activities to do with the family.
Skijoring and Dog Sledding.  
I don't know about you but this is the first time I have ever heard of Skijoring….. AND IT SOUNDS LIKE A BLAST!! Skijoring is a form of dog sledding, but instead of riding in a sled, the person rides behind the dog on cross-country skis.  I have always wanted to try Dog Sledding and now there is a place right here in Minnesota to do it.   You can participate in Dog Sledding and Skijoring at Baker Park Reserve, the park has more than 2,700 acres of preserved area and is situated on the shores of Lake Independence.  passes are not required for those wishing to participate in the activities on the main trails.  For more information about Baker Park Reserve, you can go to www.threeriversparks.org.
Red Bull Crashed Ice 
To see how awesome this event is here is a link to a video: http://crashedice.redbull.com/en_INT/video/battle-finish
Ok….. This has got to be one of the coolest events during Minnesota winters!! This takes place on Feb. 24th and involves the toughest and best skaters in the world as they go down a 1600 foot track with a 12 foot drop right in front of the St. Paul Cathedral.  This is event is packed with over 120,000 fans, Crashed Ice is in it's 5th year. If you can't make it be sure to watch the action live on Red Bull TV!  This is definitely going to be on my list of activities to go to, it looks crazy! If you would like to get more info about this event and see some more awesome videos go to http://crashedice.redbull.com/en_INT/event/saint-paul-1.
The Winter Carnival
The Winter Carnival is a huge event in Minnesota, and it runs from Jan. 27th through Feb. 10th.  It has so many activities and attractions to do and go to. Since 1886, the Saint Paul Winter Carnival has brought family-friendly events and community pride to Saint Paul and the Twin Cities metro area. Through city-wide special events, fun activities and more, the Saint Paul Festival and Heritage Foundation celebrates winter like only Minnesotans can!  Can you believe that? Minnesota has been doing this carnival for over 130 years that is a crazy amount of time, it just goes to show that it is a loved event here in Minnesota.  If you would like more info on the Winter Carnival you can go to www.wintercarnival.com.
Apostle Islands mainland sea caves 
Only in cold winters like the ones here in Minnesota, can visitors walk across frozen Lake Superior to explore the Apostle Islands mainland sea caves.  These amazing ice formations that decorate the cliffs of Lake Superior: waterfalls frozen in place, entire cliff faces encased in inches of ice. For more info on the Ice Caves check out  http://www.lakesuperior.com/travel/wisconsin/ice-caves-of-apostle-islands-national-lakeshore/
If Lake Superior is a little to far for some of you, don't worry, Minnehaha Falls when frozen is absolutely beautiful and definitely lives up to the beauty that the ice caves up north has and is a must see.  (See picture below of Minnehaha Falls) go to http://www.minneapolisparks.org/parks__destinations/parks__lakes/minnehaha_regional_park/ For more info.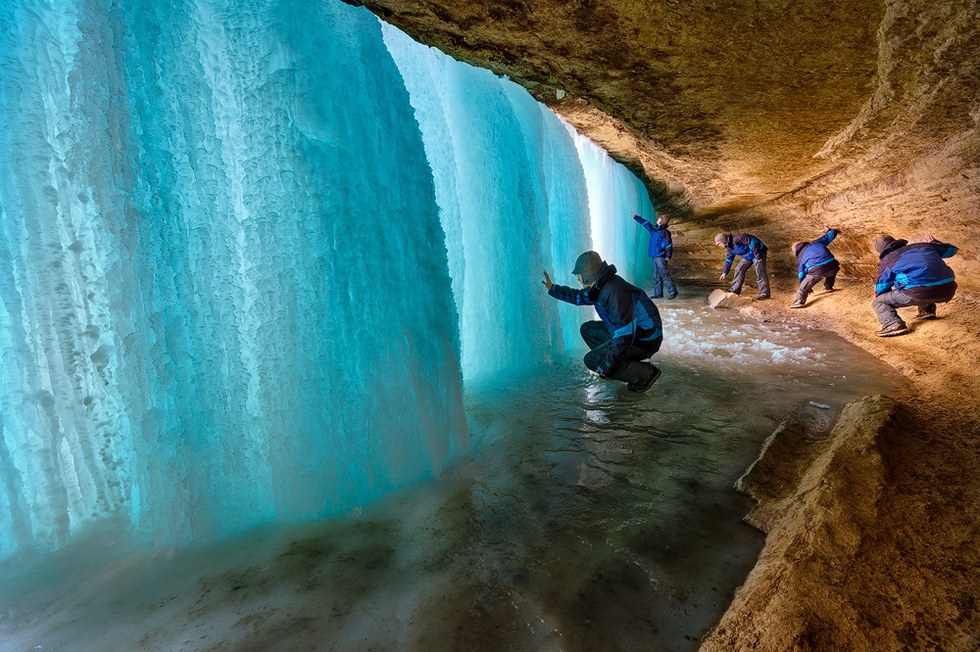 Minnesota winters can definitely be daunting and a little depressing at times BUT it doesn't meant that there isn't anything to do.  Winter brings its own flavor of fun and excitement and you need to do a little more searching to find them and I promise you wont be dissatisfied with the fun winter brings.